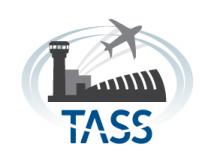 Project full title: Total Airport Security System
Grant agreement no.: FP7 241905
Coordinator: Verint Systems Ltd (IS)
Consortium: Verint Systems Ltd (IS), British Airport Authority (UK), GMV Sistemas S.A. (ES), Rapiscan Systems Limited (UK), CRAT (IT), NCSR Demokritos (GR), Skysoft (PT), Mentum (FR), Vitrociset Spa (IT), Alcatel Lucent Italia Spa (IT), University of Dublin Trinity College (IR), The Imego Institute (SE), Elbit Security Systems (IS), Athens International Airport AIA (GR), Real Fusio (FR), Immersion SAS (FR), Red-M Services Ltd. (UK), BAE Systems (UK), Israel Airport Authority IAA (IS), Ernst & Young (IS)
Duration: 48 months
Starting Date: beginning 2010
Expected Ending: end 2013
Key Persons: Prof. Francesco Delli Priscoli, Ing. Tiziano Inzerilli
Project Description: TASS is a multi-segment, multi-level intelligence and surveillance system, aimed at creating an entire airport security monitoring solution providing real-time accurate situational awareness to airport authorities.
The TASS concept is based on integrating different types of selected real time sensors & sub-systems for data collection in a variety of modes, including fixed and mobile, all suitable for operation under any environmental conditions. TASS divides the airport security into six security control segments (environmental, cargo, people, airplanes, vehicle-fleet, and facilities), each of them being monitored by various technologies that are fused together, creating a multisource labyrinth fusion logic enabling situational and security awareness of the airport anytime and anywhere. These fused control segments will be accessed through the TASS WEB-based portal by running a suite of applications making the airport security control centralized to all airport authorities. Information will be shared and synchronized between all of them in order to generate a comprehensive, real time, security overview for the airport C2, providing all the necessary features to assure a total "no breach" security environment. The integration will include the use of in-place technologies that will result in a cost-effective solution.
The TASS consortium consists of three main end users, representing 16 airports and 16 technological partners, which bring together European SME's, industrial and academic partners, ranging from sensor design and electronic communications through to civil airport protection. The technologies will be tested at three airports including the hub airport Heathrow, an Israeli domestic airport and Athens airport, in order to cover a wide range of needs at different levels of airport protection. The main test at Heathrow airport will involve scenarios including two connected to the upcoming 2012 Olympic Games in London ultimately resulting in a high & smooth passengers flow.
CRAT Contribution: In the context of the TASS project CRAT will contribute to the sensor data fusion and mediation gateway design and to the secure communication and resource allocation in WiMax radio link. In the radio resource management domain algorithms for advance traffic control and scheduling will be designed in order to assure satisfactory quality of video application transfer.